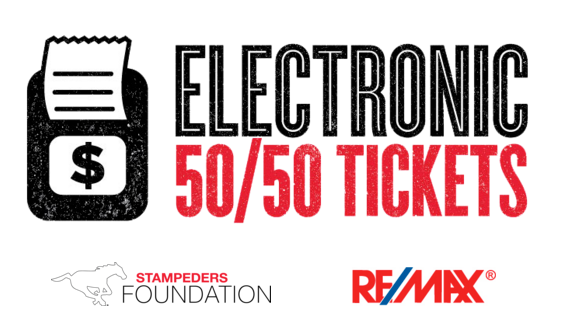 Calgary Stampeders Foundation 50/50
The Stampeders Foundation is the charitable arm of the Calgary Stampeder Football Club. The Foundation's mission is to improve the lives of Calgary and southern Alberta residents through grassroots/minor football, education programs as well as health and wellness projects.
As the mission states, grassroots and minor football programs are a major focus of the Foundation.  As such, players, coaches and parents from the Calgary Colts and Calgary Bantam Football Association volunteer their time to sell 50/50 tickets at all Stampeders home games.
Look for the sellers in the bright yellow aprons throughout McMahon Stadium from the time gates open until the end of halftime selling tickets.
Prices:
1 ticket number for $5
3 ticket numbers for $10
10 ticket numbers for $20
2017 50/50 winners
  Game  
  Opponent  
  Winning No.  
  Total pot  
  Prize  
Status
June 6th
BC Lions

B-130395

$36,995.00

$18,497.50

Claimed: Jonathan Wesley of Calgary

 June 29th
 Ottawa RedBlacks
 

C-142257

 $80,415.00
 

$40,207.50

Claimed: James Smith of Champion, AB

 July 22nd
 Saskatchewan Roughriders
 

C-107239

 $130,280.00

$65,140.00

Claimed: Frank Sarro of Calgary, AB

 July 29th
 Hamilton Tiger-Cats
 B-124262
 $90,370.00
 $45,185.00
Claimed by Greg Shymanski of Calgary, AB
Aug. 26th
Toronto Argonauts
C-134176
$86,960.00
$43,480.00
Claimed by Christopher Cymbal of Calgary, AB
Sept. 4th
Edmonton Eskimos
C-102955
$178,580.00
$89,290.00
Claimed by Brian West of Calgary, AB
Sept. 16th
BC Lions

C-111399

$96,080.00

$48,040.00

Claimed 

Sept. 29th
Montreal Alouettes

C-136320

 $92,995.00
 $46,497.50

Unclaimed

Oct. 20th
Saskatchewan Roughriders

C-117755

$85,350.00
$42,675.00

Unclaimed

Nov. 3rd
Winnipeg Blue Bombers

C-142177

$21,910.00

$10,955.00

Claimed by Eric Robichaud of Calgary, AB

Nov. 19th
Edmonton Eskimos

C-145394

$298,800.00
$149,400.00

Claimed by David Garden of Calgary, AB